Ticket Rio Karneval
Ticket Rio Carnival Travel agency specializes in selling packages for major events like Rio Carnival, Theme Parks, and Shows, adding the reception services, transportation, and guide.
Besides Rio Carnival Packages and Tickets, we
offer tours for groups to Corcovado, Sugar Loaf, beaches, Angra dos Reis and Ilha Grande, as well as cruises, city tours, booking hotels, transfers, among others.
To purchase our products and services, visit the Ticket Rio online stores at https://www.carnavalticketrio.com or talk with our personalized service by phone, skype, email or online chat.
We have a specialized team that will give you all the support and personalized attention. Contact us by e- mail, in person or even chat. We are at your disposal! We speak Portuguese, English and Spanish.
Services
We offer the traditional reservation of sightseeing in Rio de Janeiro, operations of packages with entrance to the sambodrome, passports to theme parks and national and international parks. We also organize special events for groups and tours that include private shuttle (bus, minibus), tour guide, hotel reservations, travel on cruises, among others.
We are affiliates to Embratur – Federal Turism Institute and Abav – Brazilian Travel Agency Association.
Click on the images to see our certificates.
Brasil Store

Address: Av. das Américas 700  Loja 201A Bloco 8 Shopping Cittá América  Barra da Tijuca – RJ
Phones: 5521 3982-1515 / 2025-5000/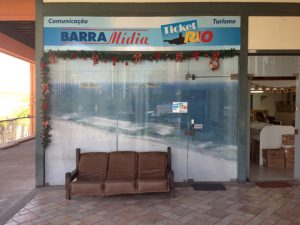 Work hours: 09 to 18h (mon – fri)
USA Office

Address: 2907 South Semoran Blvd Suite #171
Orlando FL 32822
Phones: +1 407 978-4355
Work hours: 09 to 18h (mon – fri)
E-mail: info@ticketrio.com.br
Our Websites